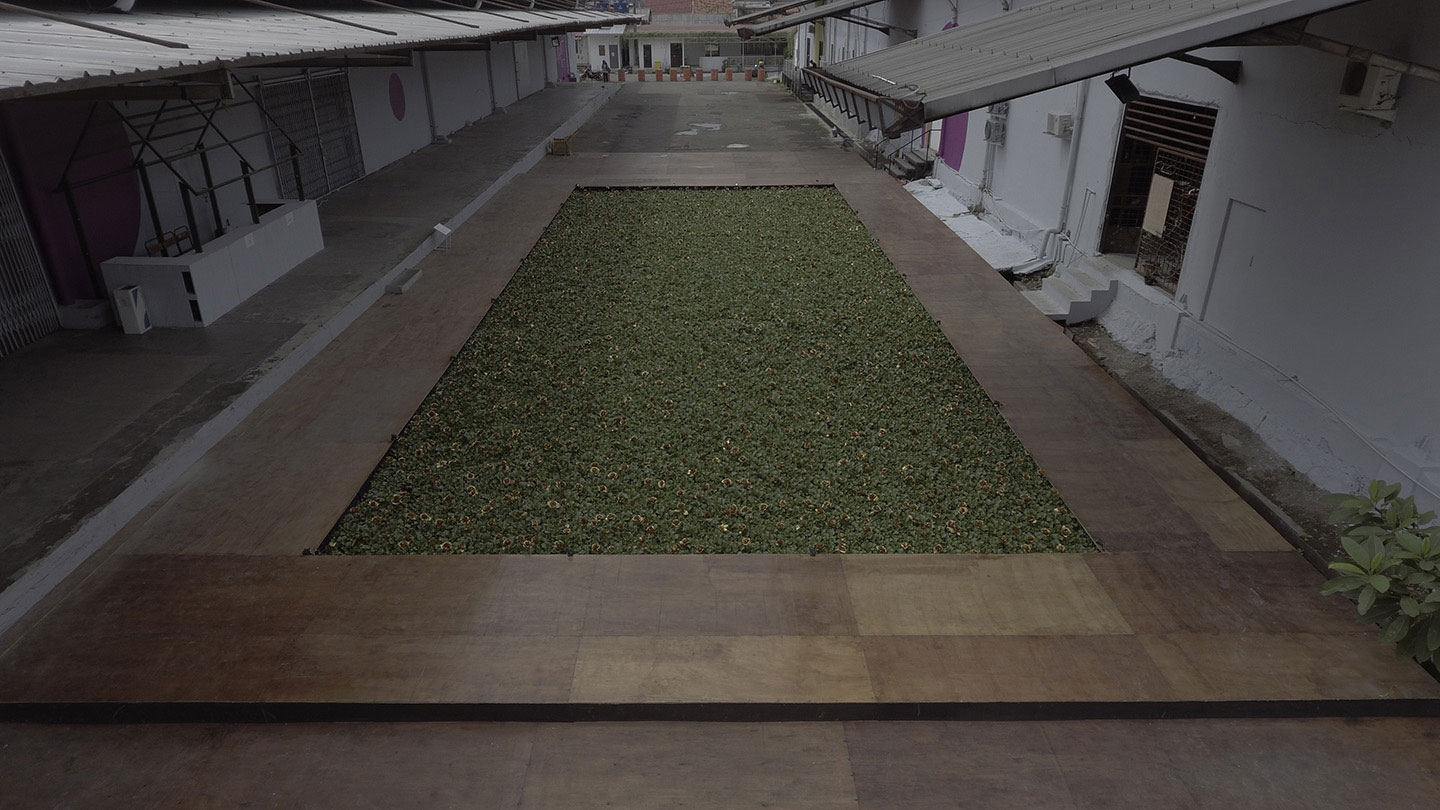 Gudang Sarinah Ecosystem, Jakarta History Museum, Museum of Fine Arts and Ceramics
4 November – 11 Desember 2017
Executive Director: Ade Darmawan
Artistic Director: Melati Suryodarmo (Indonesia)
Curator: Philip Pirotte (Belgium), Vit Havranek (Czech Republic), Hendro Wiyanto (Indonesia), Annisa Gultom (Indonesia)
JIWA: Jakarta Biennale 2017 was yet another endeavor to continue to enrich and expand the artistic experiences and critical power of the public in approaching contemporary phenomena in more contemplative and sensory ways. Jiwa as the concept was put forward to discuss various problems and questions about contemporary art and culture. Jiwa can be interpreted as human's fundamental impulse, spirit, society, nature, and everything that is spiritual and invisible.
Three books were published following the biennale. These are Melampaui Citra dan Ingatan,a collection of Bambang Bujono's art reportages and essays from 1968-2017; Dari Kandinsky Sampai Wianta, Siti Adiyati's records from 1975-1997; and Seni Manubilis,containing reviews, writings, and archives about Semsar Siahaan. In addition, various workshops were held, presenting artists as instructors in a number of schools we collaborated with.
Artists:
Abdi Karya (Indonesia), Afrizal Malna (Indonesia), Alastair McLennan (North Ireland), Ali Al-Fatlawi & Wathiq Al-Ameri (Switzerland), Aliansyah Caniago (Indonesia), Arin Rungjang (Thailand), Chiharu Shiota (Japan/Germany), Choy Ka Fai (Singapore), Darlane Litaay (Indonesia), Dineo Seshee Bopape (South Africa), Dolorosa Sinaga (Indonesia), Eva Kotátková (Czech Republic), Gabriela Golder (Argentine), Hanafi (Indonesia), I Made Djirna (Indonesia), Imhathai Suwatthanasilp (Thailand), Jason Lim (Singapore), Karrabing Film Collective (Australia), Keisuke Takahashi (Japan), Kiri Dalena (The Philippines), Luc Tuymans (Belgium), Marintan Sirait (Indonesia), Rama Surya (Indonesia), Ratu Saraswati (Indonesia), Robert Zhao (Singapore), Semsar Siahaan (Indonesia), Siti Adiyati (Indonesia), Vasil Artamonov & Alexey Klyuykov (Czech Republic), Willem de Rooij (The Netherlands), Wukir Suryadi (Indonesia), Yola Yulfianti (Indonesia).