A Cooperation between the Jakarta Biennale, Jogja Biennale and Makassar Biennale
OPEN CALL: "NEW NORMAL" PROPOSAL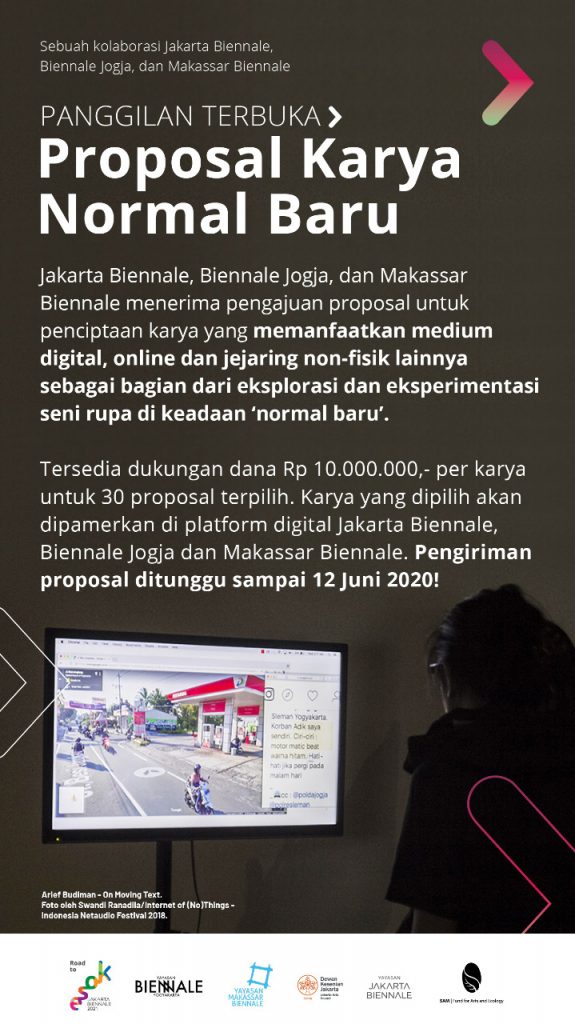 The crisis the global Covid-19 pandemic has plunged the world into presents new challenges, not only for Jakarta and Indonesia, but also the entire world, of a future in which humanity is vulnerable to biological threats such as viruses and new mutations in the human ecosystems. All of these challenges open a realm of opportunities for the new generation of contemporary art to contribute in connection with these societal problems of the second decade of this millennium.
Jakarta Biennale, Jogja Biennale, and Makassar Biennale are in collaboration to organize an Open Call: The "New Normal" Proposal. Panggilan Terbuka: Proposal Karya "Normal Baru".
Today's Covid-19 emergency prevents artists from exhibiting in a physical space. Thus, virtual/online space grows as the main channels for expressing and communicating works to the public.
The question then: does the virtual space adequately accommodate artists' works and expressions in public? Is the problem as simple as moving or documenting a work to a digital media and uploading it to the cyberspace? How can we define the virtual space within the corridor of its new political meaning? At the moment we see that the digital format and online space with all of its complexity can, in fact, provide new possibilities for contemporary artists to broaden the horizons of their works.
We would like to pose a challenge for contemporary artists to explore the online and digital media based on the idea above, with the following requirements:
Production support amounts to Rp10,000,000 / work for a 30 selected proposals.
A proposal must select one of the three biennales' themes. And they are (see below for descriptions):
Jakarta Biennale: Tomorrow – Building History Together
Biennale Jogja: New Earth Order, New Art Order
Makassar Biennale: Maritime – Sekapur Sirih
Submission of proposal containing:
A concept based on the selected theme, max. 400 words.
Execution plan.
Sketch
CV
Medium and visual strategy:
Using a digital platform such as video, audio, social media, or application that will later be uploaded to the cyberspace.
Emphasizing principles of collaboration, experimentation, inter discipline.
Open to the use of other non-physical mediums and networks such as: radio, television, and others.
Ready to be uploaded.
Open to the public, Indonesian citizens only. Proposal submission is on behalf of an individual or collective (counted as one proposal). One applicant may only submit one proposal.
Proposal submitted to the email: karyanormalbaru@gmail.com, no later than 12 June 2020. karyanormalbaru@gmail.com, paling lambat 12 Juni 2020.
Important: write clearly the selected biennale theme code as follows as the email subject line:
Jakarta Biennale: JB-proposal title-name
Jogja Biennale: BJ-proposal title-name
Makassar Biennale: MB-proposal title-name
30 selected proposals will be announced on 20 June 2020. Online exhibitions begin on 1 August 2020.
Email karyanormalbaru@gmail.com is only intended for proposal submission. For further questions regarding a certain theme and biennale concerned, please send questions to the organizer's email:
Jakarta Biennale: info@jakartabiennale.id
Biennale Jogja: office.biennalejogja@gmail.com
Makassar Biennale: sekretariat@makassarbiennale.org
DESCRIPTIONS OF THEMES OF JAKARTA BIENNALE, BIENNALE JOGJA, AND MAKASSAR BIENNALE:
Jakarta Biennale: TOMORROW – Building History Together
Stepping into a new decade of this millennium, the currents of change have grown more forcible: from shifts in the global politics, mass polarization, issues of diversity, digital disruption, climate change, all the way to the global Covid-19 pandemic. We are forced to find solutions of the world's problems while testing our human solidarity
The crisis caused by the global pandemic of Covid-19 now presents further challenges, not only for Jakarta and Indonesia, but also the entire world, of a future where humanity is vulnerable to the presence of biological threats, such as viruses and new mutations in the human ecosystems. All of these challenges open a realm of opportunities for the new generation of contemporary art to contribute in connection with the social issues of this second decade of the millennium.
In its 2021 edition, the Jakarta Biennale is carrying the theme of "TOMORROW – Building History Together". The idea is to touch on the manifold life problems as mentioned above.
Through a rereading of history and a gaze toward the future, strategies and experimentations in what art can offer bear an urgency while in search of and creating meanings of TOMORROW.
Raising hope for TOMORROW, the Jakarta Biennale mutates to offer the novelty of the future. When the pandemic later passes, we will build a new history together, toward TOMORROW that we aspire to.
Jogja Biennale
Cur(e)ating the Earth, Shifting the Center 
New Earth Order, New Art Order
One of the most referenced sources on the pandemic, with a look at human problems and excesses of repressive capitalistic system, is the text by Arundhati Roy, "The Pandemic is a Portal". It underlines the fact that the pandemic issue is a matter of imbalanced power relations, control of natural resources, and an economy that tramples on the marginalized. Reflecting on Roy's thoughts, we see that the pandemic is a face of a greater humanitarian crisis, especially with regard to human relations with nature. For decades, climate change slogans have fallen short in forcing us to change the way we relate to the earth—we are exploiting it all the more today. During this pandemic, the earth seems to take time to care for itself while reminding people to think about their lives in the future.
"Shifting the Center" has been one of the Biennale Jogja Equator's ideas for the past decade. In the context of this pandemic, we see how the idea of "Center" and "Periphery" are questioned in real terms. Asian countries demonstrate that they can be the success stories of how to handle a pandemic, in fact providing substantial logistical support for countries that were once considered more powerful. A geopolitical complexity is in motion. In a broader context, "Shifting the Center" also means viewing nature as the "Center of Life", humans are no longer the axis — post-anthropocentrism.
How do we reflect these ideas in art practices? We are inviting artists to rethink art practice in an attempt to care for the earth and see nature as the center of life. The idea of ​​curation (from the word to cure, 'to heal or to treat') relevantly manifests as concrete actions to build a shared living space that is not only socially just, but also naturally just.
Makassar Biennale – Maritime: Sekapur Sirih
Scholars admit that all global systems fail, especially political and economic ones, when the Covid-19 plague broke out. At the same time, responding to this new outbreak, people seem ready to dig memories about cures that have been passed down from one generation to the next and practiced in their smallest environments.
This phenomenon is only one of the many ways of how people respond to the outbreak. It is also a sign that for a long time, armed with a variety of inherited knowledge, people have been able to withstand shocks.
The Makassar Biennale thus unfold a space for the art world to respond to. By continuing to focus on maritime landscape expressions, the Makassar Biennale 2021 is setting out the subtheme of "Sekapur Sirih".
"Sekapur Sirih" is a generic term for a kind of hors d'oeuvre when entertaining guests in the archipelagic culture. This term also serves as an art's entry point to explore the symbols of the wealth of Indonesian medical world, grown in nature for humans' provisions (phytopharmacology).
This collaboration program is supported by SAM Art Fund.